Good morning,
While we're hearing about new coronavirus cases decreasing in Italy, on the other side of the world Reuters reports:
The threat of a rebound in Wuhan remains high, said Wang Zhonglin, chief of its Communist Party, ordering residents to avoid leaving their homes unless necessary.

The comments came about two weeks after officials eased the city's total lockdown, allowing some of its population of 11 million to go outdoors for the first time since Jan. 23, though they were still not able to leave Wuhan.
Best to buckle in and prepare (at least mentally) for a year of waves of WFH.
On that sunny note, on to the update.
Helping Those Who Can't WFH So Easily
My local Poke shop (which has closed) is running a fundraiser for employees who are suddenly out of work.
On their Gofundme they say:
Its been over three weeks since the part of the staff has filed for EDD (Unemployment benefits) and haven't received any reply about getting their checks anytime soon. EDD has been overblown with requests and all employees are just waiting and hoping at home.
This is a painful reminder that not all of us are able to work from home so easily, and some of us are out of a job and not getting paid at all. I donated, and if you're able to, I encourage you to donate to your own local shop that has closed. If they don't have a Gofoundme, maybe you can help their owner start one.
If you do know of people who are unemployed or underemployed, you might also point them to online work such as those listed on Modern Day Jobs. Keep in mind that many of these are not very desirable jobs — they often pay poorly, doing work that doesn't feel fulfilling, or may even put them in harm's way (e.g. working as a delivery person during COVID-19). On the other hand, some extra income over the next few months might really make the difference between staying afloat and losing a home or other hardships.
Growth Opportunities While WFH
If you're fortunate enough to still have a job, or you have enough savings to weather unemployment, now is the time to think about some of the career opportunities available while WFH that you could never have done while in the office.
If you have a career change in mind, a new skill that could improve your salary in the future, or a skunkworks project you've been meaning to try, now is the time to do it. It's easy to (virtually) teleport yourself between your day job and your growth project, no commute required. And, there's no boss looking over your shoulder, so no need to be stressed out about what the boss might think.
Some general ideas:
Sign up for a Udacity or Coursera class in your field (or in a new field you want to move into).

Learn a new tool related to your field, like a new programming language or a new model of people management.

Read a book in your field.

Write about some of your ideas and share them with close coworkers.

Create a new habit or process for your job that might help you do better work or save time.

Consider a job change (keyvalues.io is a great newsletter for eng jobs)
Enjoy your new project! And if you need a sounding board, feel free to sign up for a virtual cup of tea with me: https://calendly.com/stromme/tea.
Shelter-In-Place Photo of the day
It seems like everyone I know is making a sourdough starter. And everyone is finding that they end up with way too much starter. This SF resident found a creative solution.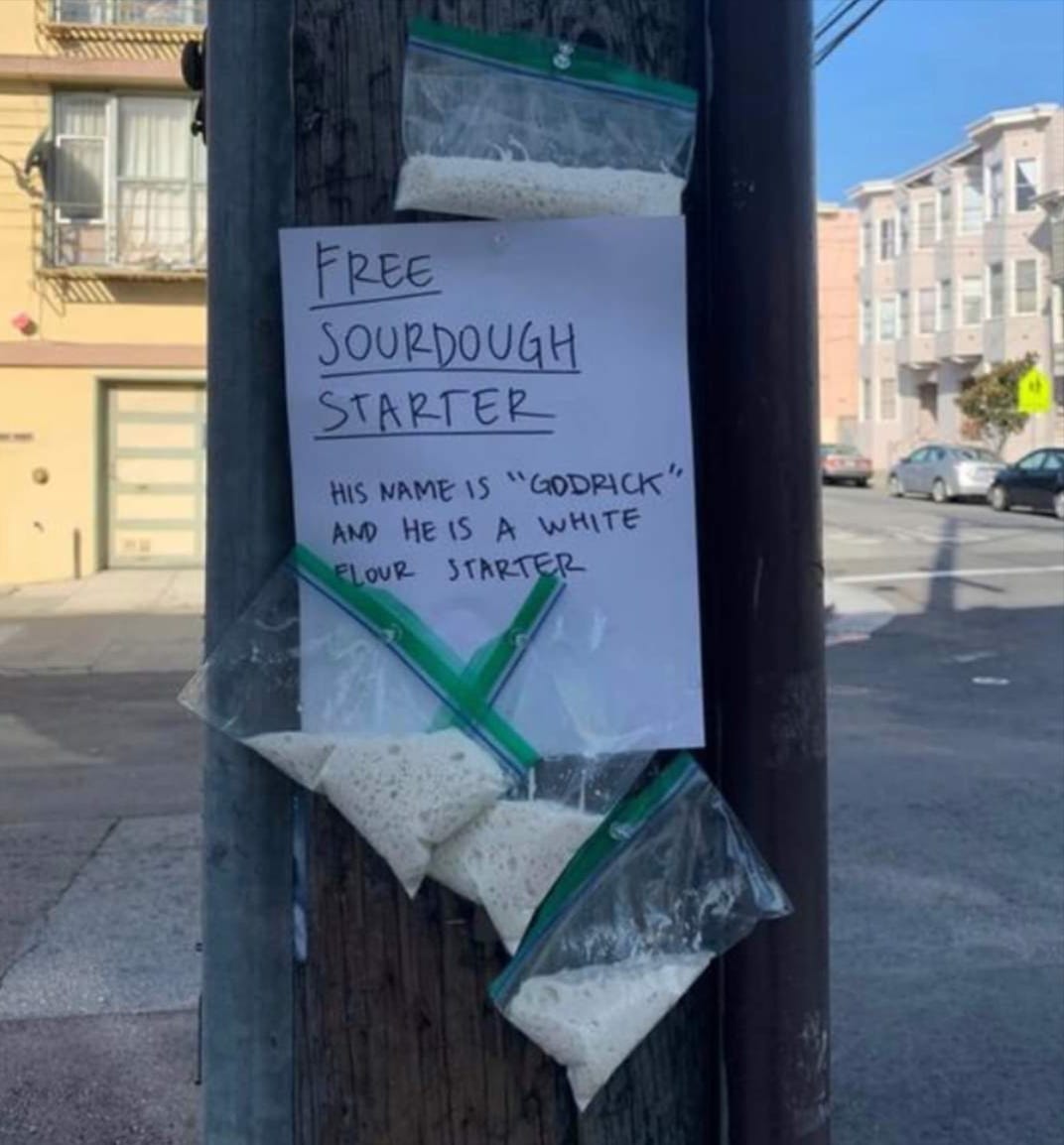 ---
That's all for today,
Andrew