Discover more from The WFH Times
A newsletter about how to be more productive working from home than you ever were in the office.
Paige Schwartz on Writing From Home
Good morning,
First, a bit of housekeeping. WFH Times posts will now come out on Fridays rather than Mondays, to give you something to look forward to as you crank away throughout the week. Of course, you can always snooze the email and read it on whichever day you prefer.
Today's interview is with Paige Schwartz, writer and ex-Google product manager. Paige's WFH setup (shown below) is enough to make me quite jealous. I also appreciate how she has created multiple places where she can work, an idea whose value is explained more in The Many Types of Work.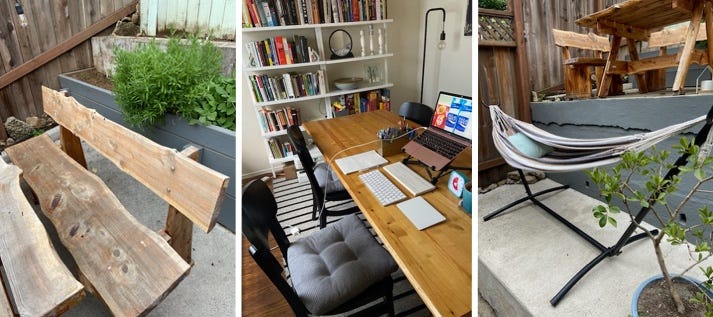 Paige tells us about one of the OG WFH professions, writing! Enough with the intro, on to the interview!
Paige Schwartz
Can you briefly describe your job?
I'm a freelance writer specializing in copywriting for tech companies. I also write fiction and essays and enjoy the odd job as an editor or writing coach.
What do you do on a daily basis?
It varies a lot, in terms of the kinds of things I'm working on, and the amount of work I have in any given week. Right now I'm fairly busy, working on a couple of blog posts and some marketing content for a startup that's launching soon. I try to fill in the rest of the time with creative projects, since my dream is one day to write fiction full time. So usually mornings and afternoons are a mix of writing for work, writing fiction, and reading. I also spend a chunk of every day learning Spanish as a hobby, as well as cooking, gardening, and taking care of things around the house. I never thought of myself as domestic, but when I started working from home, I discovered that I really loved that stuff.
You've been working from home full time for a while now, right?
Yes, and I've always loved it. I think some of that is my personality, I'm fairly introverted and I prefer to work independently. It's also very easy for me to spend a whole day reading, maybe taking a bath, going for a walk, listening to a record — that's like my ideal day in a lot of ways, and I don't get tired of it. I mean, I left a really good job at a big company to sit at home and write, voluntarily, way before this happened, and I've been so happy ever since. 
Some of my friends used to ask, "How could you be at home all day?" — and it's those friends who are kind of losing their minds right now. I think people's personalities and preferences are just so different, even more different than I'd realized. But it's great that a lot of people are appreciating things about staying home, and starting to get into organizing their homes or taking up new hobbies. So many of my friends are baking sourdough bread. It's something you can do with just flour, water, salt, and time, and it's very relaxing and rewarding. Suddenly everyone wants to know my tips because I started making sourdough a few years ago when I started working from home.
What have you learned about working from home?
Besides how to make sourdough? Well, yeah, I mean, I think there are a few things that people ask me about. First, it's — how do I create some structure for myself so that I don't end up wasting all my time? And to that, I would ask back — how do you define wasting your time? I wasted so much time at my old job, in meetings that didn't have to exist, in conversations that I would have preferred to avoid — not to mention my commute! 
I don't think that it's a waste of time to take a break from your work and go read a book for an hour. I don't think it's a waste of time to spend your morning gardening and your afternoon working. I think that's how more people should be living. What does "structure" mean? It's not a lot of fun to think about. To me, a much more exciting and fulfilling concept is "balance." And if people embrace that working from home, you can get your work done AND have balance, vs. coming at it from the angle that working at home is less productive and it needs to have this structure of the typical workplace reshaped for the home and reimposed, I think people will be happier. Of course, if more people adopt this philosophy, society looks a bit different. I don't think that's a bad thing.  
What else do you think people should know about WFH?
When I started working from home I had a big fear that I would be missing out on all the personal interactions you get at work. And what happened was that I did miss out on the way that other people's approval defined me. At work, you're always getting a pat on the back or a high five, figuratively or literally. You're always getting the subtle body language that influences you to do something or behave in some way. At home, it's just you and your family, people who already love you no matter what. Somehow, the pressure doesn't feel the same, working from home, and I've been able to wean myself off of that craving for approval. As an artist trying to make up my own mind, and define myself for me, it's been really helpful.
As for keeping in touch with people, when I started working independently, I realized that I didn't need my work friends as much as I thought I did. There are a few people I met at work that I'll be friends with for life. But working from home has given me an opportunity to reconnect with my real friends and the people that really matter to me outside of just getting the next project done. The stigma is that working from home blurs your work and home life, but for me, it's actually helped me define more of a work/life boundary. 
What are some challenges that writers face in particular due to quarantine? I know book tours and writing groups must be suffering. 
Absolutely, and I would also call out bookstores. Indie bookstores were already struggling to hang on and now they are getting hit hard. They are some of my favorite places in the world, and it's really scary to think about life without small bookstores. To support them, please please buy books either directly from your favorite bookstore's website, or from bookshop.org (never Amazon!). 
And yeah, my heart goes out to writers with a book coming out right now. Writing groups, in my opinion, can function pretty well online. Mine has been running great over Zoom and email. We're a solitary lot, after all. 
Have you seen any creative solutions for these issues?
I've read about bookstores doing door-to-door delivery. Writers are having to figure out online marketing more than ever before, for example taking out ads on social media for the first time. In a way, it was the direction things were already moving, with writers making YouTube "book trailers" to advertise their books — but there's no doubt that book tours brought in a lot of revenue and hopefully will continue to do so after this is over. 
There are also those creative ideas that don't work so well. The Internet Archive released a "national emergency library" of ebooks so that people could, I guess, have access to more books during quarantine. But they ended up essentially giving away copyrighted work by tons of current writers who are struggling to make a paycheck right now. It's bad. 
That emergency library project reminds me of the love/hate relationship that musicians have with YouTube. On the one hand, YouTube is a critically important tool for finding new listeners, and yet on the other hand it threatens to remove their core revenue source.
Have you had to get creative personally when it comes to your business?
Actually, I've found myself doing ok with work, maybe because it's a good time for companies to be doing remote projects that have less overhead, like writing blog posts. Or maybe I've just been really lucky. One good thing is that people will always need words and need them to be written well, for the foreseeable future, and I don't think that changes when everything goes online. Until the AI writers come for all of our souls. 
Have you started anything new since shelter-in-place?
I forgot that's what we're calling it. I've been calling it quarantine! See, that's the importance of word choice right there.
I planted a bunch of veggies that I'm really excited about, and I started playing Animal Crossing. But in terms of writing, I started a newsletter where I'm sharing my essays and short stories. I'm still figuring out my style and what kinds of things I want to create, and after working for a while with a tiny audience, I realized an ever-so-slightly less tiny audience would be helpful. Who knows where it will go, but it's been fun and motivating. This is a great time to experiment — just ask my husband, who's planning to dye his hair green. 
When this is all over, what percentage of people do you think will continue to work from home?
I hope this time has helped demystify and destigmatize working from home. Remember when Yahoo changed its policy to forbid its employees from working from home and implied that it was something only lazy people would do? That was just a few years ago. Of course, I live in San Francisco, and working from home has already been becoming more and more acceptable at most tech companies here. I've heard of some companies that are entirely remote, and doing just fine. 
I don't know if I can guess, because it will still be a very small percentage. I think I read that right now only about 30% of people are working from home. It's still going to be a luxury for a very long time, and probably only 10% of people will do it. But I think we will see more people in a mixed situation where they are working from home half the time. 
Anything else?
I'm a very optimistic person by nature and I know that can come across as over-simplifying. Maybe it is. I certainly don't want to downplay the loss and uncertainty that so many people around the world are dealing with. I consider myself extremely fortunate to be talking to you right now about the ways that working from home has been enjoyable for me. 
But I do hope that people are able to come away from this time feeling a sense of possibility, having discovered ways to feel more happy and content with their home lives, and having been able to try some new things besides Tiger King. And if you're embarking on a Marie Kondo of your space, or deciding to ferment some vegetables, or making sourdough — let me know, I have some tips!
Thank you Paige! Let us know when your next work of fiction is out. 
---
See you next week!
Andrew